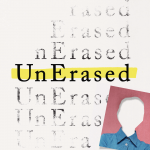 I had the great pleasure of making a series about the history of gay conversion therapy, and the people fighting against it, and the bravery that takes. It's called Unerased, it was a collab with Jad Abumrad of Radiolab, Shima Oliaee, Mikel Elcessor and some other brilliant folks. The series was in conjunction with the incredible movie, Boy Erased, which itself was based on the memoir Boy Erased by the wonderful Garrard Conley. Who, full circle, was a producer on the podcast.
The piece of this series that really stole my heart was the story of the Mama Bears. Women, mostly really religious Christian women, who upend their lives when their children come out as LGBTQI. The journeys these women go on just staggered me. From leading Bible study at a fundamentalist mega church to speaking at a pride parade. The human capacity for change is real. That's episode two, and if it doesn't make you cry, you have a cold cold heart.
One last thing. There were *so* many stories we couldn't include in this series. That always happens when you're gathering thread on a big project, but it's hard every time. My unending gratitude to the folks whose voices you hear, and to those you don't. These are one slice of this story, and I'm looking forward to reading and hearing more.